Solid Hardwood vs Engineered Hardwood: Which is Better?
There are two types of hardwood flooring: solid wood & multi-layered engineered wood. Each type is specifically designed for different areas in your home.
Create your own personal style by choosing the wood species, thickness, plank width, surface texture, color, stains, finishes, price and installation method for your flooring products.
Solid Hardwood
Engineered Hardwood
Solid Hardwood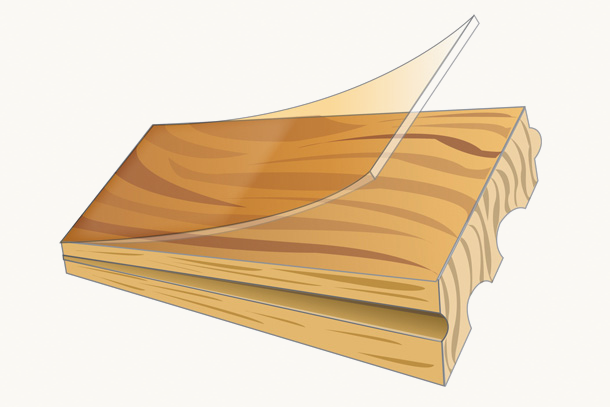 Solid hardwood floors are just that — each plank is crafted from a single piece of solid wood. Each board is about 3/4 of an inch thick, enough thickness to be sanded down and refinished repeatedly for however long the flooring is in the house.
WHERE SHOULD I INSTALL SOLID HARDWOOD?
Solid hardwood can expand and contract in reaction to changes in moisture and temperature, so solid wood floors are only recommended for rooms at ground level or above, rather than below-ground basements.
Engineered Hardwood
Engineered hardwood is constructed from multiple cross-layers of plywood pressed to create a strong, durable core. This core is reinforced by two layers of hardwood - one on top and one on the bottom. The layers are better able to handle changes in moisture and humidity than solid hardwood.
WHERE SHOULD I INSTALL ENGINEERED HARDWOOD?
The multi-ply structure of engineered wood gives it more flexibility than solid wood, so you can install it in basements, over concrete subfloors and over radiant heating systems. There are four possible installation methods depending on the subfloor: glue, nail, staple and float.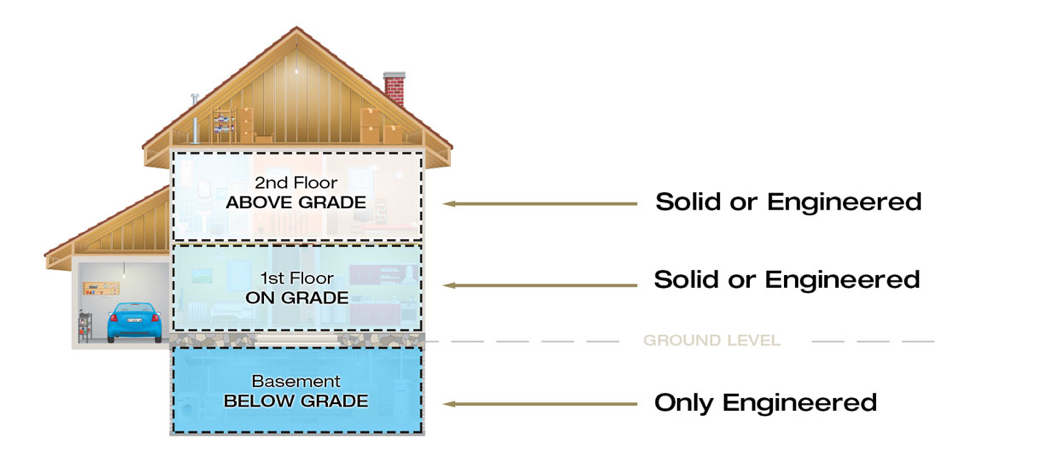 ABOVE GRADE
Soild hardwood can be appropriately installed in an upstairs room with a prepped subfloor.
ON GRADE
Solid hardwood can be appropriately installed on grade level with a prepped subfloor.
BELOW GRADE
Solid hardwood is not recommended for installation below grade due to moisture and other changes in climate.
WHAT ARE THE DIFFERENT SOLID HARDWOOD SURFACE TEXTURES?
Solid hardwood offers an array of different textures. Each surface style has a unique character that produces a specific look in an interior space.
SMOOTH
HAND - SCRAPED
DISTRESSED
WIRE BRUSH
BOARD-TO-BOARD COLOR VARIATION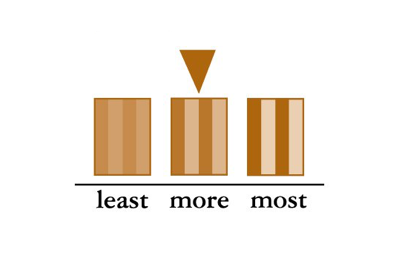 Hardwood plank may vary in color from board to board. This variation is part of the natural beauty of wood flooring. The amount of potential color variation depends on the species. To see the color variation level for a product, go to the bottom of the product detail page and look for this key.
HARDNESS SCALE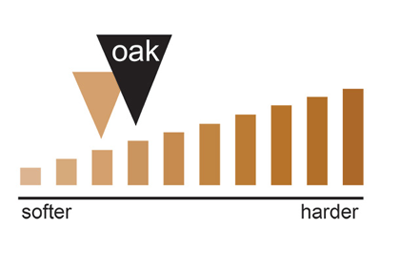 Hardwoods used in flooring are given a specific hardness rating, which indicates how resistant the wood is to dents and wear. As you would expect, harder woods are better able to withstand indentations than softer woods. Consider oak, maple, or Brazilian cherry for the greatest durability. Check the hardness rating for a product on the product detail page. Scroll to the bottom and look for this key.