617830
Flag Pole
LM Flooring, Grand Mesa, 7.5
Engineered Hardwood Flooring
This product offers 50 year warranty.
This product can be installed in all levels of your home including basements.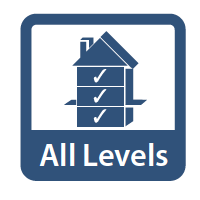 This product is made up multiple layers of wood stacked in a cross-grain configuration to help minimize expanding and shrinking making it suitable for all levels of the home.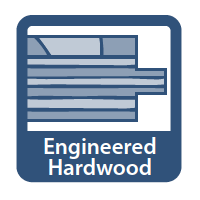 BUY NOW or
CALL FOR PRICE
Covers 31.290 sqft
Available to ship within 7 days
December 4th - 10th
Step 1: Choose Your Color
Modern Look
Neutral Color
Contemporary Design
Great for any room
The Grand Mesa Collection offers options that are sure to provide a rustic feel for your desired room. Each option comes with the excellent 50-year residential warranty and an Aluminum Oxide finish to ensure the longevity of your floor.
You may need some of these
Trims & Accessories
Underlayments
Install Supplies
Cleaning Supplies

Flush Stairnosing is the preferred molding for staircases.

T-molding is used to transition between two floors of the same height.

Thresholds are used to transition from hard surface floors to carpet.

T-molding is used to transition between two floors of the same height.

6-mil Vapor Barrier - Blocks moisture to protect overlying flooring.

Spread rate is 100-125 square feet per pail depending on trowel size

Silane-based wood flooring adhesive that provides exceptional green grab strength and unsurpassed final shear strength compared to competitive products.

Bona R850T is a one component, moisture curing, water and solvent free, silane-based adhesive for wood floors. Provides outstanding adhesion to a variety of surfaces.

Spread rate is 100-125 square feet per pail depending on trowel size

Bona Pro Series 18-inch Hardwood Floor Care System comes with everything you need for safe and easy cleaning of all hardwood floors on a professional level. Includes 18" mop, pole, cleaner and pad

Great for removing adhesive after an installation
Details
Shipping Info
Maintenance
Installation Info
Warranty Info
Brand
LM Flooring
Finish

A rating of the degree of surface shine for this product.

Aluminum Oxide
Gloss
Low
Edge
Beveled
Collection Name
Grand Mesa
Color
Flag Pole
Width

The horizontal "shortest" measurement for most products.

7.5
Length

The vertical measurement of the product.

Random Length
Thickness
0.56
Style Code
JMCGMC
Color Code
K42K198
Color Variation

All Natural products have some degree of natural variation that comes from nature. This measure informs you of what variation a given product is expected to have.

Medium
Surface Texture
Wire Brushed
Residential Warranty
50
Species
Hickory
Install Location

The location where this product is made to be installed.

All Levels
Commercial Warranty
5
Flooring Liquidators is committed to providing all our customers with superior service, and shipping is no exception. We utilize only the most reputable and reliable freight carriers to deliver your order in a safe and timely manner.
Delivery Time
All orders will be processed within the following business day. Should your order contain ALL "In-Stock for Immediate Delivery" items, your order will ship the following business day after processing. If your order contains merchandise labeled as "Ships within 7 Days", we ask that you allow the outlined time frame for the material to be received into our warehouse. Once the material is received, your order will be prepared for shipment and in route to you within the following business day.
Upon shipment, you will receive an email informing you that your material has been picked up by the carrier.
Once we have received confirmation of pick-up and receive tracking information, this information along with the name of the freight carrier handling your shipment will be sent via e-mail.
For any orders not shipped via UPS, the freight carrier will contact you to make a delivery appointment.
Once your delivery leaves our warehouse, your actual delivery date and time will be dependent upon the freight carrier. Tracking information will be made available to you once your product leaves our warehouse.
IF A RESPONSIBLE ADULT IS NOT PRESENT AT THE TIME OF DELIVERY OR IF THE FREIGHT CARRIER CANNOT REACH YOU TO COORDINATE A DELIVERY APPOINTMENT, ADDITIONAL SHIPPING AND STORAGE FEES WILL BE APPLIED TO YOUR ORDER. ADDITIONAL CHARGES WILL APPLY TO RE-ROUTED SHIPMENTS. PLEASE CALL TO OBTAIN RATE INFORMATION.
Small Package Shipments
Our company uses a variety of different carriers to ship material. Your shipment may be sent UPS, FedEx, GSO or USPS. We will choose the shipping service at our discretion.
Shipments are sent signature required at our discretion. If you would like to waive the signature please put NO SIGNATURE REQUIRED in the notes of your order. (Please note all larger LTL freight shipments require a signature). Please inspect your package.
Large Order Shipments
Freight shipments will be unloaded curbside. It is your responsibility to arrange movement of the materials beyond this point. Delivery personnel are not permitted to enter a customer's home at any time.
It is your responsibility to arrange for assistance carrying the shipment into your home if it is needed; delivery personnel are not permitted to assist with this in any way.
All deliveries are curbside. That means the driver is only responsible for unloading the boxes at your curbside. Please make sure that there is someone at the delivery location that can handle the material. Boxes can weigh anywhere from 30 lbs. for laminate and vinyl and up to 80 lbs. for hardwood. If your residence isn't accessible by a semi truck please choose business or service center (freight terminal) pick-up.
Damage or lost material during shipment is rare and if you follow the steps outlined below replacement materials will be sent promptly.
Damaged Material
Tile
Unfortunately, because of the fragile nature of tile, we cannot ship tile. We do, however, offer the ability to will-call tile from locations throughout the country depending on the vendor. Contact one of our sales representatives for more information.
You must inspect all materials and sign for your order upon delivery. If you find discrepancies, DO NOT REFUSE DELIVERY OF DAMAGED MATERIAL. ACCEPT THE DAMAGED MATERIAL, have driver sign delivery receipt noting discrepancies, take photos of the damage and email both photo's and delivery receipt to falisha@flooringliquidators.net immediately.
You must notify us of any damage or missing items within twenty-four hours of receiving your shipment. Damaged material must be available for carrier inspection.
736 Mariposa Road, Ste. F | Modesto, CA 95354 | 1-209-222-6253
Whoever receives the delivery must check the shipment for the proper item numbers and quantity before they accept delivery. Note missing items on the driver's Bill of Lading. We cannot be responsible for missing items not noted at the time of delivery.
Damage during shipment is very rare. However, in the event you do receive damaged material it will be replaced if you follow these instructions:
When the shipment arrives, check for damaged boxes, underlayment, molding, etc. If there is any damaged material you MUST accept all of the material and note the damage on the driver's Bill of Lading. Only damaged material noted on the driver's paperwork can be replaced.
Do not refuse delivery of damaged material. Accept the damaged material, note it on the driver's paperwork as described above, and save the material. The freight company may want to inspect or pick-up the damaged material. If you refuse delivery of any items you will be responsible for all shipping charges and restock fees.
REMEMBER
INSPECT
Inspect your shipment for any damage or missing items. You have the right to inspect your shipment before signing for it.
ACCEPT
DO NOT REFUSE ANY PART OF YOUR SHIPMENT. If your shipment is refused, it will take longer for you to receive your flooring, and you may be subject to additional charges. Accept all of your shipment.
NOTATE
If there are any damages or missing items it must be noted by you on the delivery receipt and signed by the delivery driver, otherwise we cannot send replacement product or issue refunds.
FLOORING LIQUIDATORS WILL NOT ISSUE REFUNDS OR REPLACEMENT MATERIAL IF YOU DO NOT NOTATE DAMAGE ON THE DELIVERY RECEIPT AND GET A DRIVERS SIGNATURE ACKNOWLEDGING THE DAMAGE. THERE ARE NO EXCEPTIONS TO THIS POLICY. PROTECT YOURSELF.
During delivery you may notice a carton where the box is torn or ripped. In most cases the flooring itself isn't damaged. If you do receive a box with a couple of damaged pieces the best thing to do is use the damaged pieces for cuts.
Other services including lift-gate and inside delivery may be available through the freight company when they schedule your delivery. You will be responsible for any fees for those services. Please note request for lift gate services may delay delivery.
Hardwood Maintenance
Keep your rich hardwoods strong and looking new with some simple routine care and these tips from Flooring Liquidators' hardwood maintenance guide.
Regular care
Keep hardwood floors free of dirt and dust with routine sweeping with a soft broom or dust mop, and vacuuming with a soft floor attachment. Both practices will eliminate grit and dirt that can leave tiny scratches and do damage over time.
One of the foremost rules of hardwood – maintain a constant humidity. Too much moisture can cause wood planks to swell, and too little can cause cracking and gaps between them. Depending on your climate and what time of year it is, you may need to use a humidifier or dehumidifier.
Clean spills promptly
Periodically clean your floors using a recommended cleaning product – never wet mop or soak wood for routine cleaning or accidental spills. At most, use a damp cloth.
Liquid spills should be cleaned as soon as possible after they happen, as any moisture that soaks into your hardwoods can cause damage. You can use a wet vac, approved floor cleaning products, dehumidifier, and ventilation to mitigate a spill.
Protect your hardwood floors!
There are many ways to protect hardwoods. One easy solution is the use of area throw rugs, which can protect floors from scratching and water damage. These are particularly useful near entryways, hallways and in front of sinks. Not only that, but the right rug can add style and color to a room.
Any furniture in a room with hardwood floors should be equipped with felt furniture pads under the legs, which protect from dents and scratches when furniture is moved or jostled. When moving furniture or other heavy objects, always lift rather than dragging!
You and your guests should leave shoes at the door, especially cleats and high heels. Sharp points can dent and scratch hardwood upon impact, and even rubber soles can leave scuffs.
Install Location

The location where this product is made to be installed.

All Levels
| | |
| --- | --- |
| Residential Warranty | 50 |
| Commercial Warranty | 5 |