MEASURING THE SPACE FOR YOUR AREA RUG
Determining the proper rug size for your space is as important as choosing a color or pattern. The size and shape will help determine how you will group and define furniture arrangements, link rooms together and accent existing décor.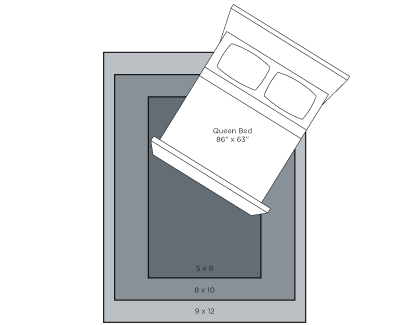 For medium-sized rooms, use a rug that is 5' x 8'. This size is ideal for smaller bedrooms, offices and living rooms. Choose a rug that fits under all 4 legs of any tables on top of it.
For larger rooms, you'll likely want a rug 8' x 10' or larger, or multiple smaller rugs. These rugs are ideal for large living rooms, great rooms, dining rooms and master bedrooms. Align your rug with the direction of your furniture for a more traditional look, or angle the rug or furniture for visual interest. For dining rooms, add 4' or more to the length and width of your table. Rugs should extend beyond pulled-out chairs. Allow for an equal amount of exposed flooring on all sides of your rug to help achieve balance.