Laminate flooring is exceptionally durable.
Multiple layers of material mimic the the grain, texture, and color of various types of wood, ceramic, and stone flooring.
It can be installed in any room in your home and is available in limitless widths, styles and finishes.
Laminate Flooring Construction
Laminate flooring has four layers. From top to bottom:
1. Wear layer: clear top layer that protects the floor from stains and fading
2. Design layer: a photographic image of wood, stone or ceramic material
3. Inner Core & Locking Layer: high-density fiberboard that provides stability, durability, moisture resistance and sound absorption
4. Backing: creates a moisture barrier to protect the floor from warping
This layered construction makes laminate floors remarkably durable.
LAMINATE FLOORING BY DESIGN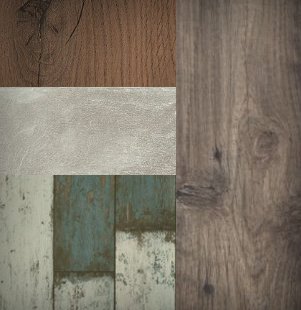 Laminate Colors
Available in an exciting palette of colors, you're sure to find a laminate floor in the color you're looking for!
Laminate Width Options
Laminate flooring comes in a wide variety of sizes and shapes. Most wood-patterned planks are 4 inches or wider, while ceramic tile patterns range between 12 and 15 inches. Keep in mind the width of individual boards, which can have a dramatic influence on the look of a floor.
Laminate Gloss
Do you prefer a fine, high-gloss or matte, low-gloss look? Whatever your taste, the gloss level actually has little to no effect on the durability or performance ability of your laminate, so it's entirely up to your aesthetic preference!
WHAT ARE THE DIFFERENT LAMINATE STYLES?
Laminate flooring offers an array of different styles and textures.
Each surface has the unique character of the hardwood or natural tile that it mimics.
ROOM STYLES
There are no restrictions on where laminate can be installed. From basements and dens to bathrooms and kitchens, laminate flooring works superbly well in any area of your home. No matter which rooms in which you choose to install laminate, you can feel confident about its ability to perform as intended. It will retain its beauty in high-traffic areas and through normal changes in temperature, light and humidity.
KIDS, PETS & DURABILITY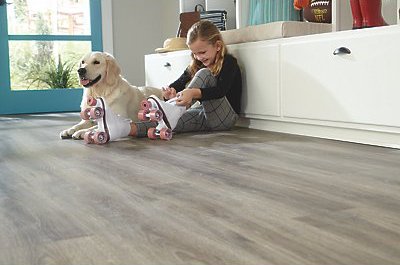 The multi-layer construction of laminate flooring creates unsurpassed resistance to wear and stains. It's able to handle active children and pets, and is well-suited for commercial use.