What do I need to know about carpeting?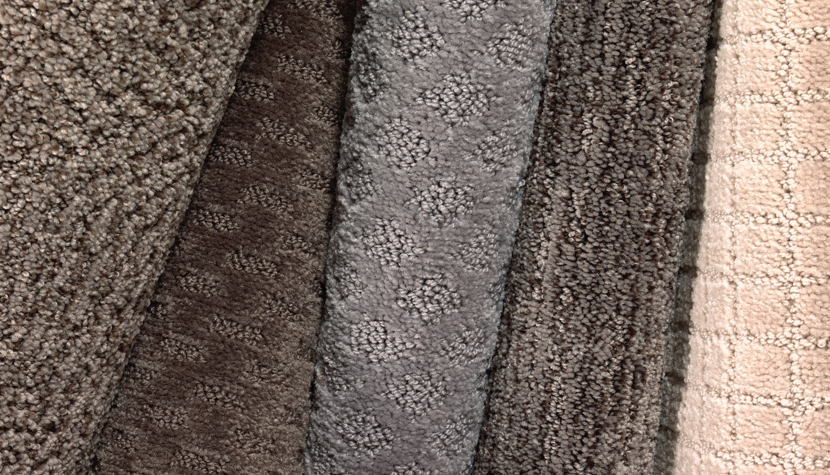 Carpet tile is the most convenient and affordable way to carpet your floors. Perfect for high-traffic areas, entertainment rooms, and basements, carpet tiles can be easily installed (and equally easily removed) to replace stained or worn tiles. Choose from a selection of sizes, fibers, piles, colors, and patterns available at Flooring Liquidators.
Before you shop, there are some terms to learn so you can differentiate between your different carpet options.
TYPES OF CARPET FIBER
Nylon
Nylon is the strongest and most common carpet fiber. Most U.S.-made carpets are nylon, a fiber valued for its durability. It can stand up to heavy traffic, resist crushing and, with stain treatment, can become stain resistant & camouflage dirt. Nylon is prone to static when not properly cared for.
Polyester
With vibrant color quality and a natural resistance to stains, polyester fiber is as functional as it is luxuriously comfortable. This hypoallergenic carpet fiber resists fading and stains, and is available in a variety of textures. Polyester is prone to crushing when used heavily.
Polypropylene/Olefin
Looking for a carpet that stands up to sunlight, bleach, staining and fading? These synthetic fibers offer superior resistance to a variety of common issues. However, you'll find fewer color options and will need to be wary of crushing.
Wool
Wool is a premium and an excellent investment in your home. Not only does it offer a luxurious look and soft feel, it can filter and purify your air, inhibit the growth of harmful dust mites and bacteria, and is stain-resistant and hypoallergenic.
Acrylics
If you want the look and feel of wool without the premium cost, you can try acrylic fibers, also known as man-made wool. Acrylic carpeting resists moisture, mildew, static, stains and crushing, but is less durable than other carpet options.
Other advanced types of carpet fiber have been developed by today's leading manufacturers, offering superior stain and crushing resistance. Ask one of our flooring experts for more information about the full array of carpet options available to you through Flooring Liqudators!
WHERE TO INSTALL CARPET
Carpet fits well into most living spaces. Consider the warmth and softness of carpet as you step out of bed in the morning. You may want carpet in your living room or other entertainment spaces where it can provide comfortable seating. Children's play spaces and bedrooms are also perfect for carpet, which provides a soft cushion for accidental falls.
WHAT ARE THE DIFFERENT CARPET PILES AND STYLES?
Pile is the visible surface texture of your carpet, made up of looped tufts that can be either cut or uncut. The denser the pile, typically the higher the quality. There are four main types:
Loop
Berber
Plush
Pattern
Tip Sheared
Shag
Frieze
Textured
LOOP
Uncut pile is durable, and can be ideal for high-traffic areas depending on loop size.
BERBER
Pile is constructed of thick, uncut yarn woven into a series of closed loops. Offers exceptional durability and is well suited for active family rooms and high traffic areas.
PLUSH
Pile is cut to a smooth, level height but is easily crushed revealing indentations. It can be natural, synthetic, or a blend of several fibers. This carpet is comfortable underfoot, making it a cozy covering for a bedroom floor.
PATTERN
When cut and loop piles are combined, you can create a variety of patterns.
TIP SHEARED
This type of carpet offers both the visual appeal of texture and pattern carpets. Tip sheared carpet is created by tufting some loops higher than others. When the carpet is sheared, the higher loop tufts are partly cut, but the lowers ones are not. The resulting cut pile tufts look darker than the loops, creating a pattern.
SHAG
Pile so long that it doesn't stand upright, giving the carpet a "shaggy" appearance.
FRIEZE
Short, durable and twisted pile consisting of fibers that curl in different directions.
TEXTURED
Cut loop pile has a soft and uneven surface, giving it a casual look that resists soil.
CARPET PADDING
Though it doesn't show, padding is important. Padding effects how well your carpet insulations heat and sound, as well as the cushion. Don't cut corners on padding!