WHAT IS THERE TO KNOW ABOUT AREA RUGS?
Made from a variety of wool & synthetic materials, area rugs can be hand woven, machine woven, or tufted. Appropriate for rooms large & small, entranceways, hallways & stairs, area rugs are available in a wide variety of shapes, sizes, colors, & patterns for any budget.
Everything you need to know to shop for an area rug.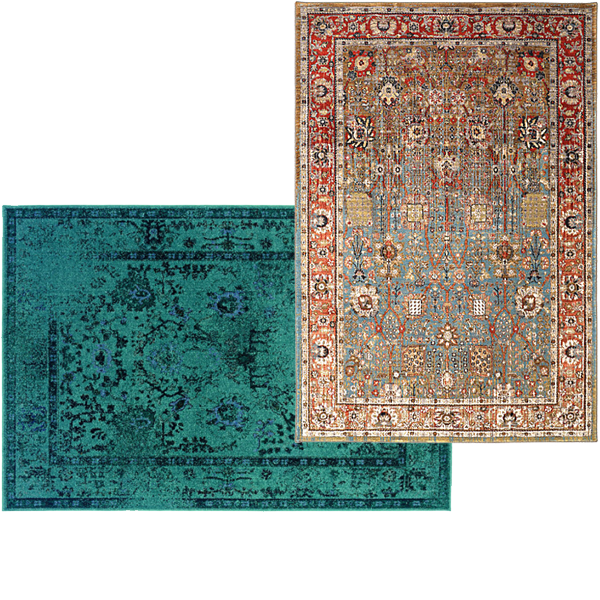 For centuries, area rugs have enlivened, softened and warmed home interiors. Functionally, they protect hardwood floors, reduce noise and help rooms retain heat. As artfully crafted accessories, they also tie together the colors and textures of your space—even becoming the focal point of a room if desired.

With such versatility, it's easy to see why area rugs are available in every type of weave, pattern and price imaginable. But don't feel overwhelmed. Let this crash course in area rugs help you make the best choice for your home and wallet!
Your Buying Guide
Discover the perfect area rug to coordinate with your space. Round rugs are an ideal choice for a smaller kitchen or dining area, while a rectangular shape adds a layer of texture to a larger living room. With soft, durable construction and wow-worthy designs, they're a treat for your eyes and your feet!
What Size and Shape Area Rug?
Area rugs are made in standard and non-standard sizes. They can be rectangular (which is most common), round, square, oval, octagonal or long and narrow for runners. The most common sizes are 2'x3′, 4'x6′, 5'x8′, 6'x9′, 8'x10′ and up.

Choosing the correct size area rug depends on the dimensions of the space you want to cover. If you're thinking square or rectangle, place a piece of paper where each of the corners will fall in the area you wish to cover and measure that space.

If you're considering a round rug, run a piece of tape from the center of the space you want to cover to the outside edge and measure it. This gives you the radius of the circle. Double it and you have the diameter. Round rugs are sold by the diameter.

Oblongs or ovals are measured like rectangles – by the length of the longest part and the width of the widest part. If you want to cover an entire room with your area rug, it's recommended to leave a 12- to 15-inch border of flooring exposed to frame your rug.
What Color Should I Choose for My Area Rug?
Color is as important for an area rug as how it's made. The combination of color, design and the setting of your room all come together to make your personal interior design statement.

Great interior design often features combinations of colors that either contrast or complement a room's primary color scheme. A good rule of thumb for choosing a rug is to stick to one primary shade and two additional colors.
WHAT ARE THE DIFFERENT AREA RUG STYLES?
Area rugs offer an array of different styles, each with unique character.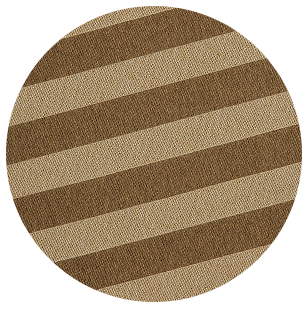 CASUAL
CHECKERED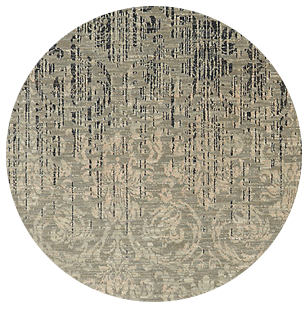 CONTEMPORARY
DISTRESSED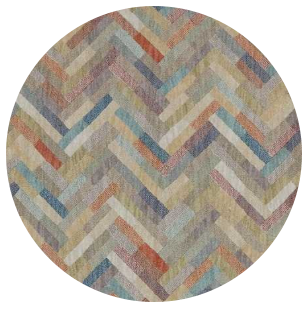 MODERN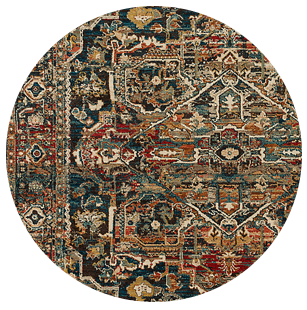 TRADITIONAL
Installation Tips
Taking proper care of your rug will prolong its life and like-new appearance. Vacuum your rug regularly to remove loose soil, taking special care when vacuuming fringe and edges.
Medium Sized Rooms
For medium sized rooms, area rugs are typically 5' x 8'. This size is great for smaller bedrooms, home offices, and in living rooms - under the coffee table, for example.
Under the Coffee Table:

Rug size will depend on the size of your coffee table & the accompanying furniture. Choose a rug that accomodates all 4 table legs.

An area rug should be approximately the same length and width of the furniture within your space. You can either leave some space between the furniture and area rug or place the front legs of the furniture on the rug with furniture coasters under each back leg, adjusting for height.
Large Sized Rooms
Living Rooms / Great Rooms:
Rugs should extend beyond the chairs in the pulled out position.
An equal amount of exposed flooring around your rug can also give balance to your room.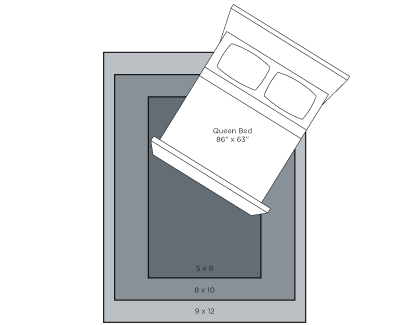 Bedrooms: Rugs should extend beyond furniture such as beds and dressers. You can place the front legs of your bed on the rug if you choose, and depending on your preference, you may opt for a horizontal, vertical or diagonal arrangement.