COUNTERTOPS
Customize your space with countertops, sinks & bars that are as stylish as they are strong.
Surfaces to match your personal style & suit your daily needs
Whether you're customizing a kitchen, bathroom, in-home bar or commercial space, countertops are a key consideration.
When designing your dream kitchen, you want all the functionality needed to cook and prep while maintaining a welcoming atmosphere for family and guests to gather. Likewise, bathrooms require a combination of comfort and durability because of their consistent use throughout the day. No matter your vision, we aim to help you discover the style that is right for you.
Inspiration Gallery
Ready to get started on your next project, but not sure where to begin? See how our countertops have been utilized in other designs and find the inspiration you need to create your own space.
View Gallery
COUNTERTOP KNOWLEDGE
New to the world of countertops and still have questions? Or do you want to dive deeper into that world to learn more about the extra design touches available to you? Whatever your needs, we hope you'll find what you're searching for in our base of countertop knowledge.
FAQS
Wondering about the differences between granite & marble countertops? Whatever your countertop questions, you may just find your answer here.
LEARN MORE
Still have a question about how to choose from our selection of materials & patterns? If you haven't found it after exploring our Frequently Asked Questions, send us a message in the Live Chat in the lower left-hand corner or Contact Us to ask directly.
SINKS
Put the finishing touch on your countertop by pairing it with the perfect kitchen sink. Find advice here on how to functionally complete your countertop design.
LEARN MORE
Adding a new sink to your space can be easier than you might think. Find all the information you need on choosing the sink that's right for you in this section, and feel free to ask any questions in the lower left-hand Live Chat or Contact Us directly.
EDGES
Choosing your edge is the perfect way to add subtle character to your already unique countertop. Pick and edge for a design that is truly individualized for you.
LEARN MORE
We offer inspired edge styles that make your stone surface truly exceptional. If you still have questions, let our service team know in the lower left-hand Live Chat or Contact Us directly and we'll get back to you soon with the answers you need!
Our Countertop Slab Yards
Modesto, CA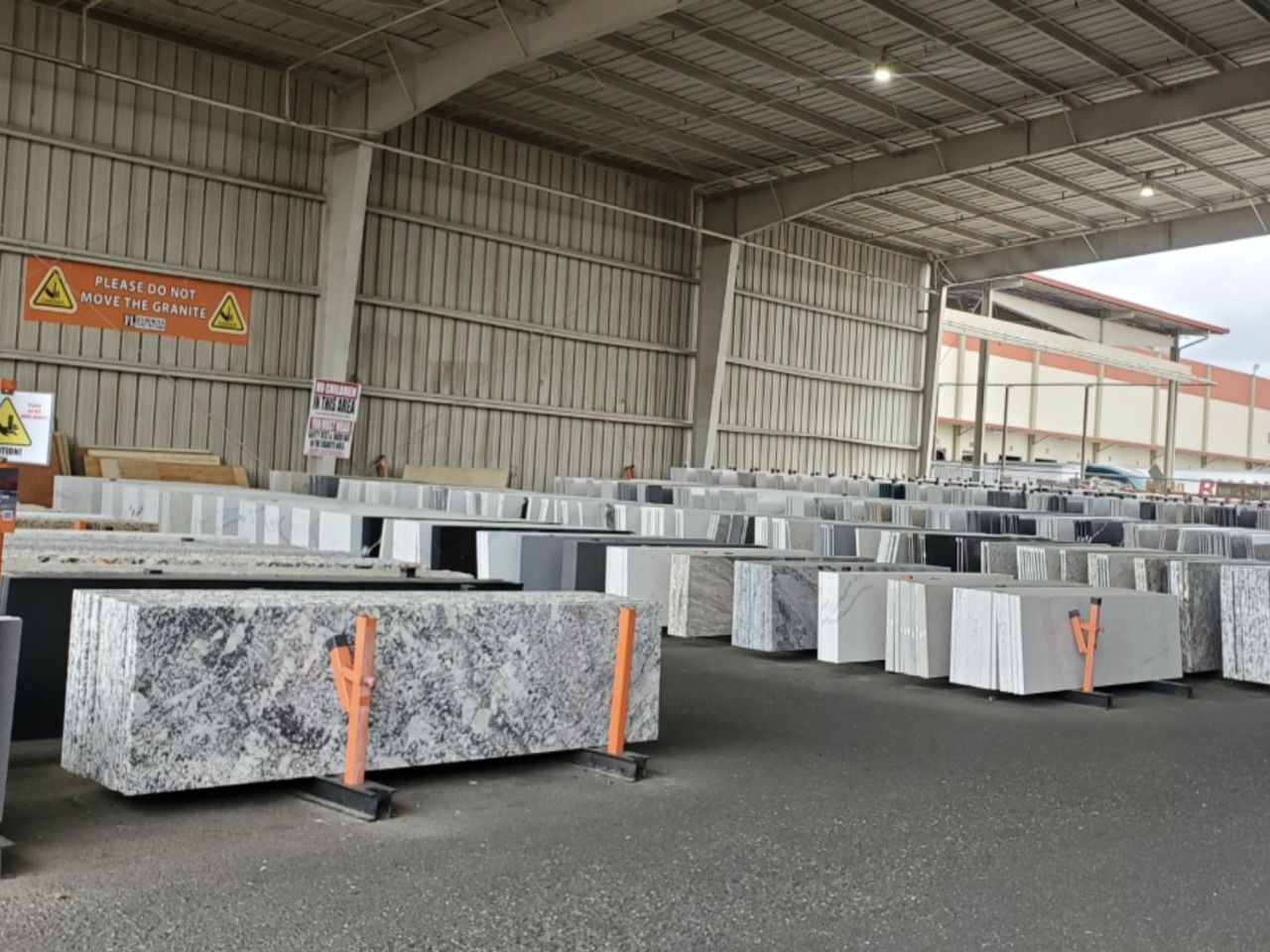 HOURS
Monday

5am - 5pm PST

Tuesday

8am - 5pm PST

Wednesday

8am - 5pm PST

Thursday

8am - 5pm PST

Friday

8am - 5pm PST

Saturday

9am - 4pm PST

Sunday

Closed
Fresno, CA
HOURS
Monday

7am - 4pm PST

Tuesday

7am - 4pm PST

Wednesday

7am - 4pm PST

Thursday

7am - 4pm PST

Friday

7am - 4pm PST

Saturday

7am - 4pm PST

Sunday

Closed
COUNTERTOP BRANDS WE OFFER
COUNTERTOPS
Find your unique surface quickly & easily
We know you're looking for a surface that not only matches your unique tastes, but also suits your daily lifestyle. On top of that, we at Flooring Liquidators strive to maximize the value you receive from the surface you choose. We offer quality products & materials, crafted by brands we truly trust to deliver. We want to work with you to create the space you've always dreamed about, whether it be a highly functional surface, a spot for family gatherings, or a unique blend of both and more. We're here if you have any questions, and we offer a variety of great service to make your purchase as seamless as possible. Thanks for choosing Flooring Liquidators!